Your profile information helps to personalize your 23andMe experience. We also use this information to develop and improve our services to you and facilitate research.
Personal Information | DNA Relatives Profile
Personal Information
You can update the personal information for each profile in your account (e.g. profile name, sex, and birthdate) using account settings from within your account. To access your account settings, open the account menu by clicking on your profile name and then select Settings.

You can modify any of the information in this section by clicking the Edit link.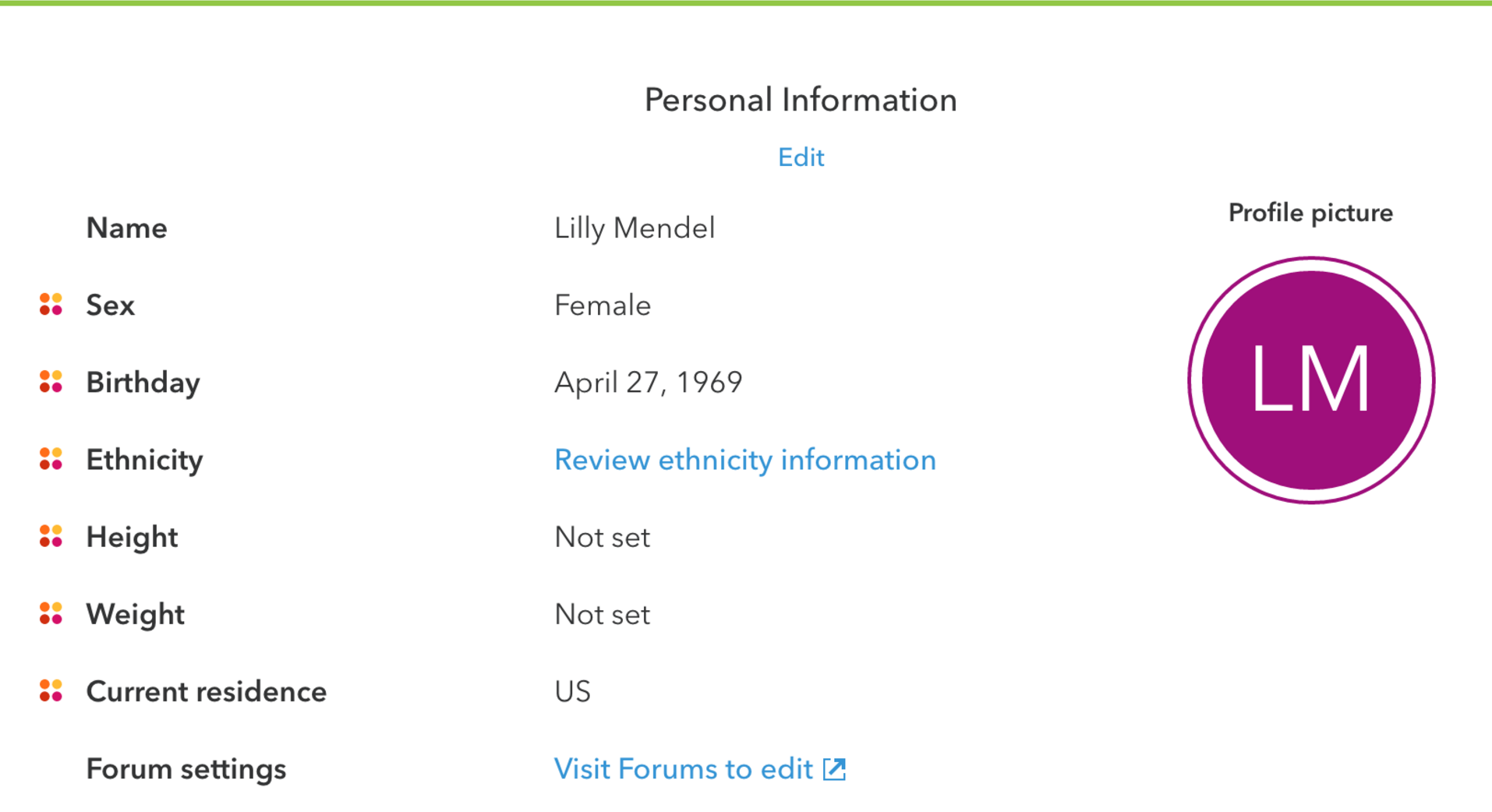 DNA Relatives Profile
The 23andMe DNA Relatives tool is an optional feature through which users can locate and connect with genetic relatives in the 23andMe database. You are not included in DNA Relatives until you opt in to the feature. If you choose to participate in DNA Relatives, all of your matches will be able to view your display name, profile sex (Male/Female), profile picture, haplogroup(s), and the percent DNA as well as the number of segments you share.
You can update your DNA Relatives profile by clicking here or by clicking on the "Update DNA Relatives profile" link located in the DNA Relatives tool.

Display Name | Enhanced Profile | Open Sharing
Display Name
The DNA Relatives tool has multiple privacy options to suit your individual preferences. If you choose to participate in this feature, you will be asked to choose a display name. Your display name is how your profile name will appear to genetic relatives and other participants. You can choose to participate using your name, your initials, or a combination of the two.
Enhanced Profile
In addition to your display name, you may choose to add additional information about your family's ancestry to enable more connections. You can add the following information to your DNA Relatives profile:
Additional information about what you'd like to discover. You may choose to include your birth year.
Information about your grandparent birthplaces to find shared family origins.
Family surnames to help you and your relatives track your lineage more easily.
A URL to your family tree to help track your family's origins.
Open Sharing
Open Sharing makes select genetic information – including your full profile name, overlapping DNA segments, and ancestry reports – available to your top 2,000 matches in DNA Relatives without an individual sharing request. By participating, you will also be able to view this information for other Open Sharing matches. The information includes:
Your Full Profile Name
Ancestry Reports (Ancestry Composition and Neanderthal Ancestry)
Overlapping DNA Segments
Relatives in Common
If you choose not to participate in Open Sharing, you will need to establish individual sharing connections with matches in order to take advantage of the tools in DNA View or to view a match's Ancestry reports.